Valorant Game Changers is an all female League for the rising FPS Esports title, Valorant. This past weekend, competitors from all around the world gathered in Berlin for the World Championship. The Prize pool was $500,000 and was largely a successful and entertaining event. But things quickly took a turn for the worst as the underdog Shopify Rebels were gaining traction and just punched their ticket to the Grand Finals.
After Shopify Rebels beat Cloud 9 white, the team favored to win the whole tournament, the rebels coach gave C9 the middle finger and thousands saw it live on stream.
This was the raw reaction the moment after this underdog team beat who was considered the best team. The way the league reacted is why we're writing this article.
Flipping off the opposing team has happened before in other Esports titles and falls under the category of trash talking, a staple of Esports from its grassroots era that leagues are now trying to silence in the interest of ad revenue.
The typical penalty for flipping off someone on stage is a Fine. The Valorant league was much more severe.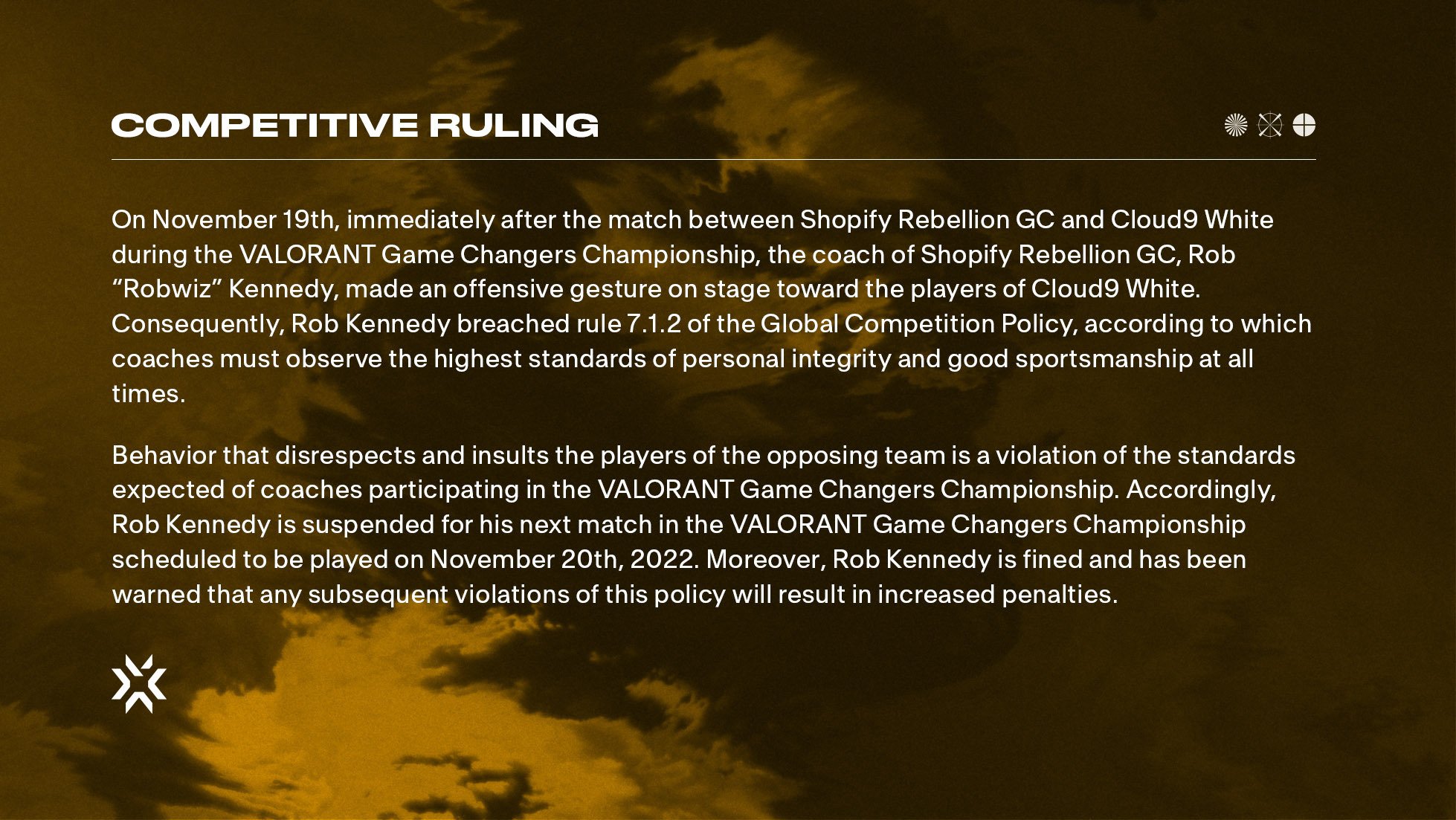 They didn't just fine the coach, they BANNED him from the GRAND FINALS. Without their Head coach, the results of the Grand Finals were rigged. An Esports League openly rigged its own tournament. This undeniably affected the Shopify Rebels team and they lost the Grand Finals after getting reverse swept in an unusual Best of 5 series. Grand Finals are normally best of 7.
It's hard to trust the integrity of Valorant Esports now that this has come to light. This was an extreme measure to suppress the raw emotions of Esports Competitors at the highest levels. Trash talking is an integral part of Esports that Leagues are becoming increasingly hostile towards as they chase down bigger sponsors. But where would Esports be without raw unfiltered emotion? without rivalries? Trash talking breeds competition,emotion, engagement, and rivalry. Leagues that ban trash talking end up shooting themselves in the foot or in this case, unwittingly rigging the grand finals of your World Championship in front of 300K viewers across the globe.
Despite this transgression, The Shopify Rebels kept composure and were just 1 more win away from being crowned World Champions. Everyone on that team clutched when they needed to in order to get them into this position. Their Teammate Sonder is known for her "Sondering Time" when she makes plays and clutches the win for her team. She won the most MVPs at the event.
It was a phenomenal run. Good Games, Well played Rebels!
Do you agree? What are your thoughts on Trash Talking in Esports?